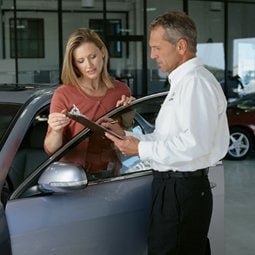 Expect the Best with Tom Denchel's Ford Service Center
There is nothing worse than having to worry about repairs for your car. No matter how minor, having to make the trip to mechanic really throws a wrench in your daily plans. Making matters worse is having to find a reliable and reasonably priced mechanic that you can truck your car with. But with the service centers from Tom Denchel's Ford you need not worry about having to reliable and knowledgeable mechanics, because you just found one.
With two convenient locations in Hermiston, OR, and Prosser, WA, we are able to serve more customers with ease. Both locations are full of passionate and factory trained Ford technicians that come to work more than prepared to help each customer. With their knowledge and our vast inventory of authentic Ford parts, your Ford truck, car, or SUV will come out driving as good as the first day you bought it. To schedule service in our Hermiston location click here or if you need schedule in our Prosser location click here.
If your new Ford or used Ford is in need of some maintenance, come on over to Tom Denchel's Ford in Herminston, OR, or Prosser, WA, and let us get you Ford running good as new!