Experience the Difference with Tom Denchel Ford County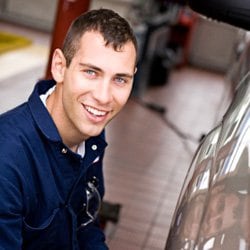 At any dealership there is a parts center that helps to make sure that you receive the best possible parts for your car. But here at Tom Denchel Ford County, our parts center is home to something special that helps to make fixing or modifying your Ford even easier.
Inside our parts center we stock a huge selection of genuine Ford parts that help to make access to these parts much easier. When you own a car the idea of being able to repair or modify the car yourself is intriguing. With all of the material available online about how to fix or upgrade your car, Tom Denchel Ford County will be here to help you get genuine Ford parts for your Ford.
When you come into our dealership and are looking for particular part to work on your Ford, you can trust that we will be able find the part that you need. As a driver in Pendellton OR, Kennewick WA, or Prosser WA, you can be sure that the staff in the parts center will be able to find the part that you need for your Ford F-Series, Mustang, Focus, or Fiesta even if you are not sure what part you need.
At Tom Denchel Ford County in Herminston, OR we have a parts center that is here to serve you and drivers like you. We work to provide a combination of great customer service and a selection of car parts that will make maintaining or modifying your Ford vehicle easier than ever. Come on over to 555 South Highway #395 in Herminston and come let us help you find the parts you need to keep your Ford as good as new!